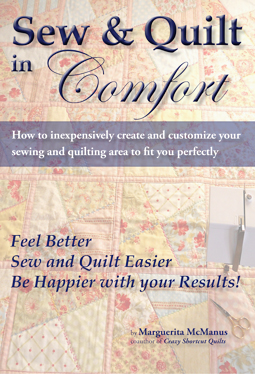 Learn how to create your custom sewing and quilting area and perfectly fit it to your sewing machine, and your body, with inexpesive and easy to use materials. See how to quickly adapt the same area to make working on a large project, like machine quilting, easier.
If you are in pain or struggle with machine quilting, it's very possible that it's your sewing area and the way your sewing machine is positioned. One size does not fit all for clothes, shoes or sewing and quilting tables. Feel better and quilt happier in just a few hours when you create your custom table.
Hundreds of people have tried and tested the designs in this book and they are thrilled – just read their comments. Make your machine quilting better and easier today!
Available in print and for the Kindle from Amazon.com